Resources
Keyword rich domain names are an all important resource in your SEO strategy.
Getting a domain with one of your core SEO keywords in it has got either a bum rap or a vigorous thumbs up from the SEO community. Some say it's not so important and others insist that it is the only way to crack the page 1 rankings. We're here to set the record straight. In fact, it's what BSF Domains specializes in.
Fact: In a world of unlimited resources, keyword rich domains wouldn't matter. You can buy fluzzles.com and sell ballet socks. It is short, whacky, and with some clever marketing, can burn itself into the public psyche. There's only one problem though, the domaining world is not unlimited. To break into the top 5 (value of Google search ranking explained) on Google for your keyword 'ballet socks', which has 590 exact match searches per month, you will have to burn a hole in your pocket. Granted, 'ballet socks' is not brutally competitive, but any PPC campaign will lead you to burn some cash in the long run. Our main objective, is to figure out how little of it you really need to spend.
That's where a keyword rich domain will save you…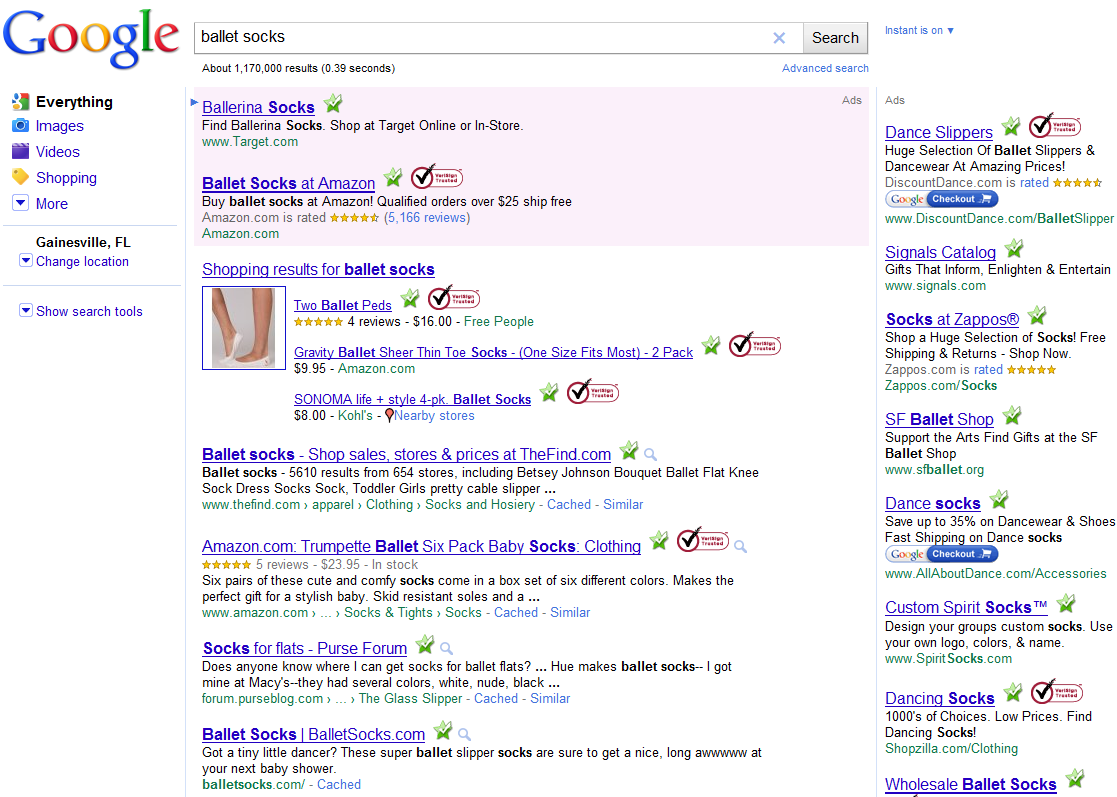 For the keyword 'ballet socks', the domain balletsocks.com, which is simply a parked domain, ranks #4 after only 1 month of existence and not one single cent spent on ads. And even more importantly, it is the only keyword domain in the entire top 10 rankings. Imagine that, zoomed straight to #4 in the rankings beating a major retailer like Kohl's and nipping on the heels of Amazon.
Yes, keyword domain names are no joking matter - most end up in the top 10 exact search results in little time and that's important exposure for your online business! Remember, where you place in the search results is critical to the amount of traffic your site will receive.
A keyword domain can save you a ton of money (as opposed to longterm PPC campaigns or inconjunction with PPC) and if you do the rest of SEO right it will zoom you to the top of the search rankings for your niche. The only problem is finding a suitable keyword domain. The reality is that almost all the keywords have been snatched up during the great domain gold rush. However, there are still suitable keyword domain names available, which we diligently work to uncover daily.
If we don't have names available in your niche, the good news is: We can find some for you! Most already discovered good keyword domains languish as parking pages, waiting for the right buyer to come along. We can hunt them out for you and match you with an appropriate keyword domain that you can buy! Contact us for more info.
What are you waiting for? Search for your keyword rich domain and start taking your online business to new heights.